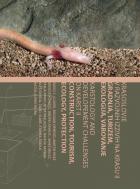 Title:
Authors:
Year:
Compilation:
Keywords:
Language(s):
Description
The second book in the new collection Karstology in Development Challenges in the Karst brings together the findings obtained in planning and construction of motorways in the Karst. More than 350 new caves were opened up in the final wave of construction. This was followed by studies on arranging karstic features for tourism and their management. We also selected studies on karstic ecology, in which we made use of biological and microbiological research. At the end there is a summary of everything we need to take into account in planning different encroachments in karstic areas.
Table of content
GRADNJA PROMETNIC / CONSTRUCTION OF TRANSPORT ROUTES 
Načrtovanje, raziskave ter krasoslovna spremljava gradnje avtocest prek slovenskega krasa / Planning, research and karstological accompanying the construction of expressways across Slovene karst    
Kraški pojavi, razkriti med gradnjo avtoceste na matičnem Krasu (odsek Divača-Fernetiči) / Karst features discovered during the motorway construction on the Classical Karst (the road section Divača-Fernetiči)
Kraški pojavi, razkriti med gradnjo avtoceste na nizkem krasu Dolenjske / Karst features discovered during construction of the expressway on the Dolenjska low karst    
Gradnja v zakraseli pobočni breči in flišu pod nanosom v Vipavski dolini / Construction in the karstified slopes of breccia and flysch below  Mount Nanos in the Vipava valley    
UREJANJE JAM ZA TURISTIČNE NAMENE / ARRANGING CAVES FOR TOURISTIC PURPOSES
Strokovni nadzor in svetovanje pri upravljanju z jamskimi sistemi: primer postojnskega jamskega sistema / Professional supervision and consulting in the management of cave systems: an example of the Postojna cave system
Vpliv turizma na rabo Predjame kot naravne vrednote / Impact of tourism on the use of the Predjama cave as a natural asset
Urejanje Nebeške jame (Thien Duong, Vietnam) za turistične namene / Development of the Heaven's cave (Thien Duong, Vietnam) for touristic purposes
EKOLOGIJA PODZEMLJA / UNDERGROUND ECOLOGY
Monitoring epikraške favne – biološke metode proučevanja stanja kraškega ekosistema / Monitoring of the epikarst fauna: biological methods of the ecosystem karst study 
Proučevanje kraškega ekosistema skozi proučevanje kraških združb / The study of the karst ecosystem through the study of karst communities 
Perspektive jamske mikrobiologije v Sloveniji / Perspectives of cave microbiology in Slovenia     
ZAŠČITA PODZEMLJA / SURFACE AND UNDERGROUND PROTECTION 
Zaščita krasa / Karst protection
Zaščita kraškega podzemlja in EU projekt »Karst Underground Protection« v Sloveniji / Protection of the karst underground and the EU project »Karst Underground Protection« in Slovenia
More ...
Dragica Jaksetič: Nasveti za trajnostno življenje na krasu; Delo, Znanost (10.5.2012)
Publishing House
Založba ZRC
ISBN
978-961-254-340-2
Specifications
hardback • 21 × 29,5 cm • 199 pages
Price
38,00 EUR (Regular)
32,00 EUR (Club)