Karst is a landmark of Slovenia. Almost half of the country is karstic with 11,875 caves registered (June 2016). More than half of the population is supplied by karst waters. An international term KARST is derived from the name of Slovenian region Kras, an area also regarded as the cradle of scientific discipline - karstology.
Karstology has become a complex multidisciplinary science, covering wide range of earth sciences related to karst. Long tradition of excellent research and unique position in the center of classical karst have established the Institute as one of the most recognized karstological centers in the world. Karst is in the focus of our research. We study its hydrology, geology, morphology, ecology, microbiology and speleology as well as history of our own science. Institute's researchers come from various backgrounds including geology, geography, physics, chemistry, biology and microbiology, thus enabling a multidisciplinary approach. Our research includes field studies, laboratory investigations and numerical modeling. We conduct basic studies and applied studies.
Institute hosts a karstological library, one of the most complete of its kind, laboratory specialized in water chemistry, geological laboratory and a lecture room with modern presentation equipment.
Institute's researchers are enrolled as lecturers at the Postgraduate study of karstology at University of Nova Gorica (Invitation to study 2017).
In 2016,  journal Acta Carsologica was awarded with the Order of Merit due to its exceptional contribution to the development of Slovenian and international karstology of Slovenian science in the world. Acta Carsologica was awarded by Slovene president Borut Pahor. In 2018, ZRC SAZU Karst Research Institute was awarded by Municipality of Postojna with Golden Recognition and by Faculty of Humanities (University of Primorska) with Bartol's Plaque.
Popular science information connected with karst, caves and karstology are shared at Facebook.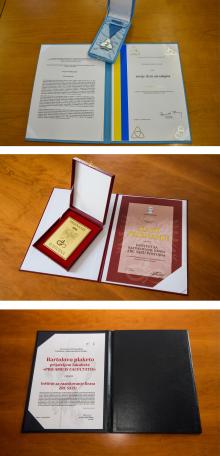 Photo: Matej Blatnik.