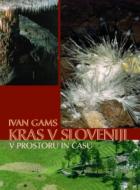 Title:
Author:
Other authors:
Year:
Keywords:
Language(s):
Description
The word "karst" usually evokes images of some picturesque features such as caves with marvelously shaped stalactites, dolines, uvalas, karst poljes, natural bridges, and the like. The book before us, however, leads the reader to an awareness of karst as a comprehensive and multifaceted natural phenomenon, the result of diverse conditions and processes in its formation. Viewing karst from a comprehensive natural-history viewpoint, it is not the unusual phenomena that intrigue us but rather the diversity that elicits so many questions. The book Karst in Slovenia offers the most extensive and rounded overview of karst in this country. Its center of gravity is the natural history presentation of all of Slovenia's karst regions and the achievements of both domestic and foreign karstology. The book focuses on karst phenomena both underground and on the surface and on the relationship between people and karst.
Table of content
Predgovor
Uvod
1. Od kamna in Krasa do krasoslovja kot paradnega konja slovenske znanosti
Od kamna do Krasa
Od Krasa do krasoslovja
Pojem krasa se še vedno širi
2. Kraška hidrografija
Človek in voda na krasu
Vpliv kamnine na vodno prepustnost
Hidrografska conalnost
Teorije o pretakanju vode na krasu
Še o splošni značilnosti pretakanja vode na krasu
Cestni in železniški predori, ki odkrivajo vodne razmere v gorovjih
3. Kras je delo kraških procesov, a katerih?
Kras je kemični laboratorij
Majhne razlike v koroziji povzročijo v milijonu let velike votline in kotanje
Lehnjakotvornost kot plod posebnih razmer
4. Jame, v katerih so nekdaj videli vhod v strašno podzemlje, danes pa iščejo v njih razvedrilo, zdravje in nova spoznanja
Jama in človek v starejši zgodovini
Raziskovanja jam po svetu in pri nas
Nastanek jam in jamske oblike
Kapniki od pojmovanja, da so okamnela bitja, do naziranja, da so priče okamnelih tisočletij
Jama kot posebno okolje
Jamsko živalstvo
5. Kras kot reliefna kategorija
Drobne skalne kraške oblike
Sto let prepira o nastanku vrtač, da o njihovem imenu in imenu drugih kotanj ne govorimo
Odkod dolinaste oblike na krasu in ime kontaktni kras?
O kraškem polju, ki ga ljudstvo imenuje dolina, tujina pa polje, ker ji dolina pomeni vrtačo
Kraške oblike kot delo kombiniranih časovno in krajevno spremenljivih geomorfoloških dejavnikov
Še beseda ali dve o netipičnem, a prevladujočem površju zunaj kraških kotanj
6. Človek spreminja kras
Trebež po kraško ali človek spreminja polgoli kras v pokriti
Od kraške pustinje in gmajne do gozdnate pokrajine
Kraški turizem – želje in resničnost
Posebnosti varstva okolja na krasu
7. Pogoji za razvoj krasa v geološki preteklosti
8. Regionalni pregled krasa v Sloveniji
O Krasu, ki je dal svetovnemu krasu ime in obličje
Kras Postojnske kotline
Visoke robne kraške planote
Potočansko, Notranjsko podolje in njegovo obrobje
Fluviokras in kras med Ljubljanskim barjem in Ribnico
Kras Ribniškega in Kočevskega polja ter zahodne Suhe krajine
Kras in fluviokras nizke Dolenjske
Kras alpskega visokogorstva
Osameli kras in fluviokras drugje po Sloveniji
Pregledna podoba krasa v Sloveniji
Viri in iteratura
Karst in Slovenia in space and time (Summary)
Kazalo krasoslovnih terminov
Kazalo turističnih in drugih pomembnih jam
Seznam slikovnega gradiva
Krasoslovni slovarček
Publishing House
Založba ZRC
ISBN
961-6500-46-5
Specifications
hardback • 20 × 27 cm • 515 pages • 293 colour and 10 b-w illustrations, 136 colour and b-w maps
Price
10,00 EUR (Regular); discounted (initialy 59 EUR)